New Delhi (Tech Desk).
On Christmas and New Year's occasion, Gioni has cut the cost of his two smartphones. Under the cut, two phones of Gionee A series are getting discounts on A1 plus and A1 Lite. The company has announced that the deductions of 3000 and 1000 rupees have been deducted on A1 Plus and A1 Lamps respectively. Apart from this, other companies had recently cut prices of some of their smartphones. Know what are these phones:
Gionee A1 Plus: This phone can now be purchased at a price of Rs 2,6999 with a discount of 3000 rupees for Rs 23999. The GeoNi A1 Lite can now be bought at a discount of Rs.11,999 and for a price of Rs.13,999.
Not only this, the company has also partnered with Petty and Geo for A1 Lite. For both the new and existing customers buying A1 Lite, they will get 10GB of data for every 6 months on recharge of 1GB or more.
Those who buy the Gionee A1 Plus will get 60GB of data according to the 10GB of rechargeable recharge of 309 rupees.
In addition, the cost reductions for these smartphones: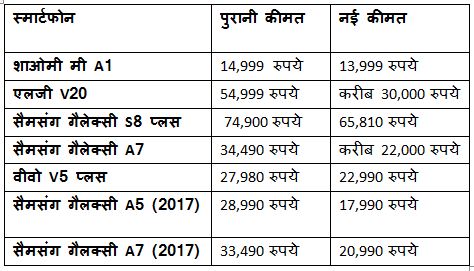 Shaomai Me A1: In the Flipkart Big Billion Days Cell, with the reduction of 2000 bucks, Mi A1 smartphone has now been reduced to 1000 rupees forever. Earlier this phone was available at the price of Rs 14999. Now its price has come down to 13,999 rupees.
LG V20: LG's flagship smartphone was launched in December last year. The company launched this smartphone at Rs 54,999. Since the launch, the price of this phone has been reduced to about Rs 25,230. This phone is available for around Rs 30,000.
Samsung Galaxy S8 +: Samsung's latest flagship smartphone Galaxy S8 + was recently launched for Rs 74,900. The company had cut its price of 6 GB and 128 GB storage variants by 9,090 rupees, after which it can be purchased for Rs 65,810.
Samsung Galaxy A7: The price of Samsung's smartphone has been cut by Rs 7,590. At the launch, the price of this phone was Rs 34,490. After the deduction, it can be bought for around Rs 22,000.
Vivo V5 Plus: Vivo introduced V5 Plus smartphone in the beginning of the year. The company has cut the price of this smartphone by Rs 4,990, after which it can be bought for Rs 22,990.
Samsung Galaxy A5 (2017) and Samsung Galaxy A7 (2017): Samsung Galaxy A5 (2017) was launched at Rs 28,990. It can now be bought for Rs 17,990. Its price has been reduced to 11,000 rupees. Simultaneously Samsung Galaxy A7 (2017) was launched at Rs 33,490. Its price has been reduced to 12,500 rupees. After the cut, this phone can be purchased for Rs 20,990. Talk about the features of the two phones, they are dust and water registers. Additionally, Samsung Cloud Storage and Secure Folders have been provided in them. These features were introduced with the Galaxy Note 7. Both phones support dual sim and work on Android 6.0 Marshmallow.
Read also:
Powerbank is the best option to buy at lower prices
Any image can be resized in minutes, this is the way
Best 32 inch TVs coming out in low budget, special features are equipped with